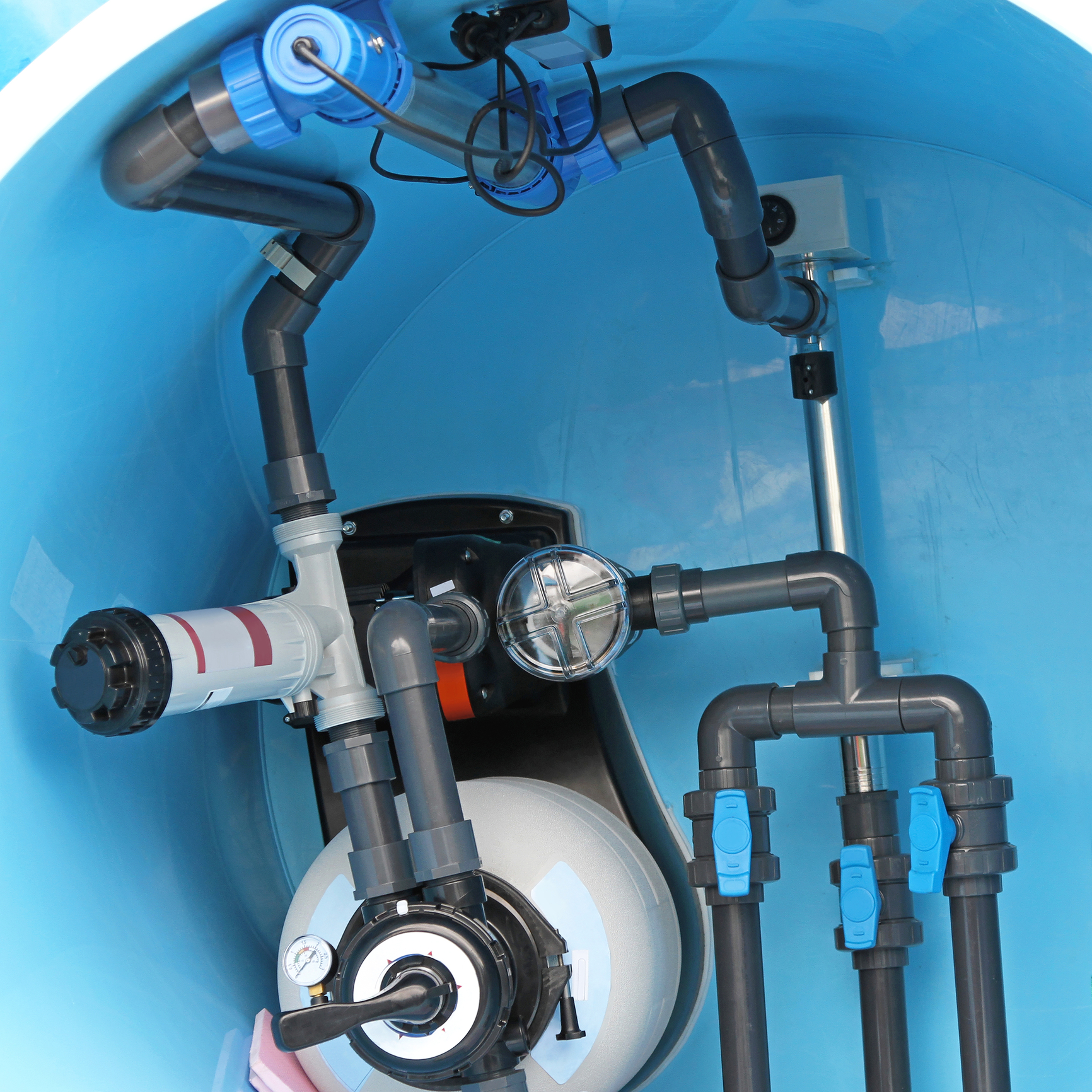 Hiring a professional for swimming pool pump maintenance, service and repair in Singapore is one of the best ways of ensuring that your pool runs smoothly for a longer period of time. Instead of running up and down in search of one to assist with your pool pump, simply contact us. We have unmatched expertise and many years' experience in the maintenance and repair of swimming pool pumps and other equipment. By relying on us, you are guaranteed an effective swimming pool pump.
A pool pump plays an important role in ensuring smooth flow of the right amount of water required in a swimming pool. It works by pushing water through the pipes and into the pool for proper circulation. This implies it usually runs for quite a long time in order to maintain the water levels. As a result, it may experience faster wear and tear. However, there is no cause for alarm because we can properly diagnose and fix all pool pump problems. Choosing us to maintain, service and repair your pool pump will ensure it remains in good condition and delivers enhanced performance.
We offer a wide range of pool pump maintenance and repair services
We are an established swimming pool company that is well equipped with the right tools, personnel and equipment for servicing pool pumps. With us, you will always be sure to get all your needs catered for under one roof. There are several maintenance procedures that are required for pool pumps in order to keep them running under good conditions. The following are some of the pool pump maintenance services that we can do;
Regular cleaning of the pool pump and areas around it: This is to ensure that all the algae, dirt and other materials that may clog the pump are cleared. We will also dust the pump itself and the vents for fans.
Cleaning of the filters: The filter is quite important in the operation of a pool pump since it eliminates debris from going through the pumping system. By cleaning the filter, we will be able to ensure that water flows freely within your pool. Besides, it also helps in preventing the wear and tear of the motor.
Servicing the motor: In many occasions, some people try to service pool pump motors on their own but this could be costly. Our technicians are well trained to safely handle sensitive swimming pool parts and equipment like motors. We can help in proper servicing of the motor to enhance its lifespan.
Checking for leaks and torn seals: This is also another area that we pay a keen attention to when conducting swimming pool pump maintenance. Our technicians will do thorough inspection of the seals and recommend appropriate action. In case of any signs of wear and tear, we shall do replacements before turning the pump on.
Inspection of pressure gauges: Based on the sensitivity of pressure gauge, they require weekly maintenance. In doing this, we will also check the pressure and ensure it is at the recommended level. Remember the pressure varies based on the size of the pool, among others factors, so always leave it to us. We understand the right pressure levels for every pool for the efficiency of the pump.
Based on the experience that we have in dealing with swimming pool pumps and other equipment, we know the right procedures to always take in maintenance services. Based on the condition of your pool's pump and other features attached to it, we will be able to do repairs or have the affected equipment replaced for longevity.
In many cases, some problems experienced in swimming pool pumps may seem quite trivial but in real sense may be complicated. For instance, when your pump won't start, it is not advisable to try doing repairs on your own. Simply talk to us, our technicians will be able to come and check out the pump then fix the problem without so much hassle and to the best standards. Trying to fix pool pump problems on your own can be risky and also very costly.
Our experts can also help you in troubleshooting
We can also offer you advice on how to always find out any problems with a swimming pool pump before they occur. In this way, you will be able to prevent the breakdown of your pump before it occurs. As a result, you will have saved quite a lot of money that would have gone to repairs and replacement.
Our experts can assist you in troubleshooting and fixing the following likely defects in swimming pool pumps;
Pump motors that won't start
Pumps that don't prime
Blocked valves
Leaks in pool pumps
Plumbing connection leaks
Leaks can be quite costly in terms of water bills since they lead to lose of several gallons of water. However, you can easily avoid such problems when you let us handle the maintenance, servicing and repair for your swimming pool pump. We understand the layout and general plumbing of different kinds of swimming pools, and can effectively troubleshoot problems in any part of the pool to prevent unnecessary wastage of water and resources.
Benefits our choosing us for pool pump maintenance, service and repair
Because of the high quality service that we have always delivered to many clients over the years, we have been able to build a good reputation in the industry. In fact, there are quite a number of perks that you will be able to enjoy whenever you choose our swimming pool pump maintenance and repair services.
All our clients are always guaranteed the following:
Professional maintenance, service and repair for all pool pump brands and types
Repairs and replacements conducted using durable, eco-friendly and high quality parts
Reliable round-the-clock services
Since we stock all kinds of pool pumps, parts and accessories, and can also conduct maintenance services, you can always get your demands met under one roof. This will help in saving a lot of time and money while also ensuring that your pool pump keeps running smoothly for a great aquatic recreational experience. Do not wait until the pump breaks down to find a solution, simply talk to us today for the best swimming pool pump maintenance, service and repair in Singapore!