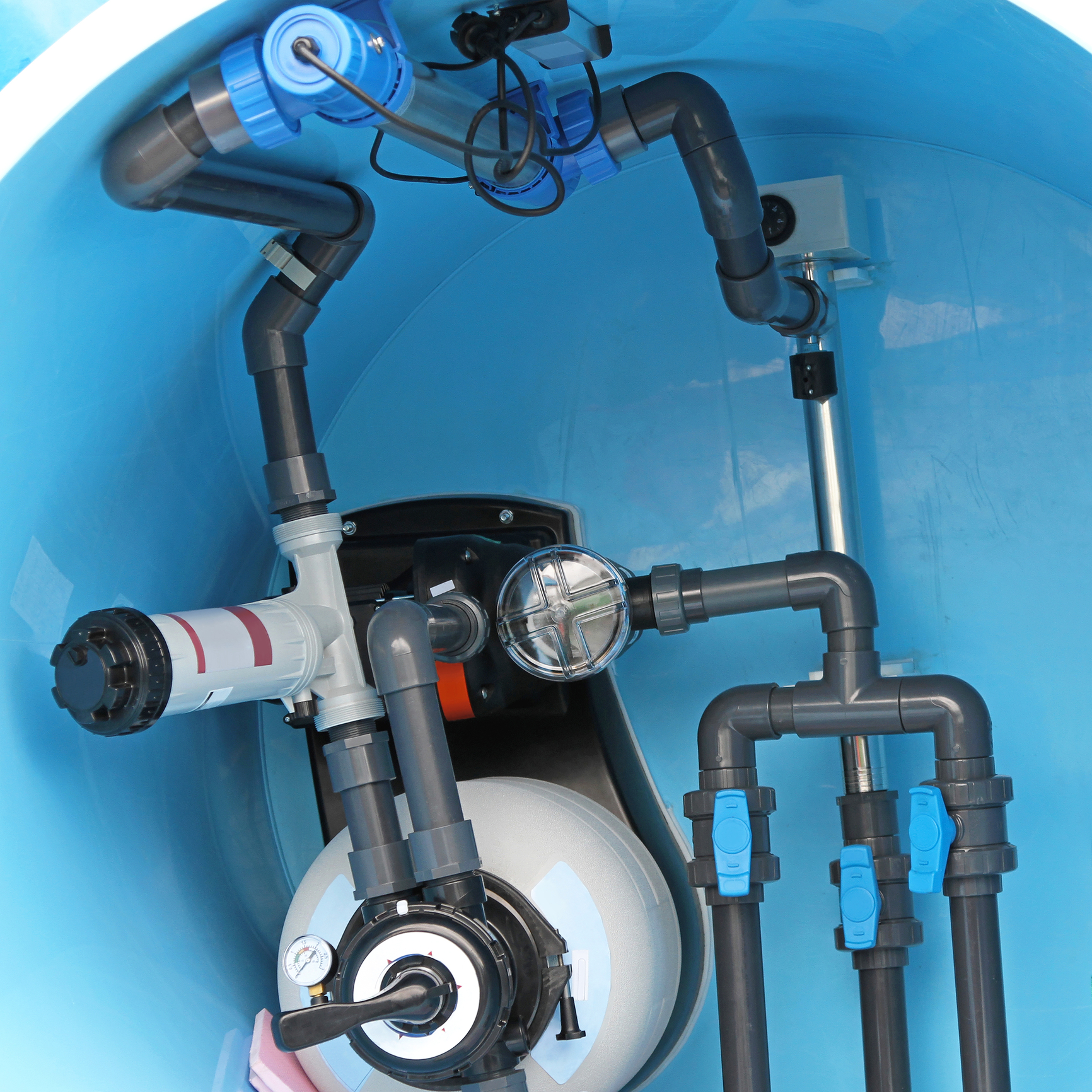 An efficient swimming pool pump is the heart of your pool circulation system. It pulls water from suction ports, main drain or skimmer, and then pushes it via the filter before pumping it back to the facility's return ports. We are always ready to assist our esteemed customers and prospects to select the best pool pumps. We also ensure that you have purchased a pool pump with the horsepower that is best suited to your circumstances. Our pool specialists are reputed for providing honest and expert advice on this essential equipment. We only stock tested and quality brands.
Why should you contact us?
We sell pool pumps that have been approved for providing both inground and aboveground filtration and circulation services.
We offer machines that feature modern efficiency in terms of speed, performance, and energy consumption.
All our pumps are designed with customer-friendly features that make regular maintenance fast and easy.
Our pool pumps feature the latest hydraulic engineering techniques that have been tested and refined for more than five decades.
Contact us today for affordable and high-quality machines.
What factors should you consider when purchasing a swimming pool pump?
It is always crucial to consider various things when searching for affordable and quality pool pumps:
Pool Pump Brands and Functionality
It is vital to choose your swimming pool pump from a supplier who stocks a broad range of pumps for a variety of pool types and sizes. We only source our brands from globally established manufacturers that are accredited for employing state-of-the-art techniques to make efficient pool pumps. Ideal pool pumps should be energy efficient and have a high-performance capacity. We never underestimate the fundamental role that a pool pump plays in maintaining the cleanliness of your pool. You should only accept the pool pump that has the right horsepower.
.
Pool volume
Only buy a pool pump that matches your pool size. Having the ideal pump assists you in optimizing the power and duration when circulating water. If you have a small pool, you only need a smaller pool pump. Having a big pool pump can increase your electricity bills without enjoying any tangible benefits.
Pool pump size
You should only purchase the swimming pool pump that best suits your personal needs. Some uninformed pool owners sometimes end up buying very large pool pumps than needed. Always consider the size of your pool before purchasing your ideal pool pump. A pump can become a power consuming equipment, at just an average of 3/4HP. Seeking expert advice from pool specialists before buying your pool pump is a wise idea.
Maintenance cost
A pumping system plays a fundamental role in each swimming pool. It is always crucial to purchase a pool pump that does have not only a higher efficiency but also low maintenance cost. You should ensure that you can easily get the spare parts of your pool pump with no hassle. We stock quality pumps and their respective spare parts. All our products are sourced from well-established manufacturers that have enjoyed the reputation of making quality pool supplies for many years. Always ensure that each unit you purchase has quality spare parts to avoid problems and unnecessary expenses in the future.
The materials and quality of the pump
Steel is not ideal for manufacturing pool pumps because it readily corrodes in the presence of active oxygen and chlorine. Pumps designed from steel materials can only be efficient for a pool where water is purified by UV stations instead of the conventional treatments. Most pool pumps are usually made of high-quality bronze or plastic.
These materials rarely affect typical reagents. If you wish to design your pool with sea water, you should purchase a swimming pool pump made of bronze material. Plastic may not be appropriate for such a facility because it is easily affected by salt. Modern units come with remote control units for easy use. Only choose brands that have received positive recommendations from a majority of past customers.
What are the common types of pool pumps?
The three main types of pumps include the filtering, circulation, and self-suction pumps. Only purchase the pool pump that best suits your circumstances. However, all the three pumps are essential to all pool owners.
Filtering Pumps
Filtering pumps are more often used in the frame, inflatable or collapsible pools. They act as both a filter and a pump, removing debris from the water. Filtering pumps are only used for a short period. The particular pumps are designed for prolonged usage or approximately 2000 hours. A filter pump needs systematic replacement of the filter element, as well as, regular cleaning. Always choose a pump whose performance corresponds to the capacity of your pool. A filter pump only removes floating particles that failed to settle at the bottom of your pool.
Circulation Pumps
They are also known as centrifugal pumps and are usually connected with the whole filter system of your pool. You can install a spare pump if you use your facility regularly. If the central unit fails unexpectedly, the spare unit starts automatically. To prevent high flow assistance, avoid locating your spare pump in line with the primary unit. The spare pump should be installed parallel to the main unit. It is important to consider the location of your spare pump at the very initial stages of designing your pool.
Ensuring that the device is installed in a way that cannot interfere with the local functions of the main unit is of paramount importance. It is always crucial to choose a less complicated spare machine with traditional suction. A higher pressure pump is ideal for swimming pools designed with fountains and other attractions. You can purchase a low-pressure pump if you wish to create water circulation and backflow that will assist to distribute essential chemical disinfectants throughout the facility.
Self-suction Pumps
A self-suction pump is among the most fundamental components of your pool's water system. An efficient machine should be able to pump and raise water to a height of about 10 feet (3 meters). Your pool water filtration mainly depends on this particular machine. A self-suction pump must include a filtering element since the performance of the filter, and its internal mechanism must match. If you choose a machine that is too powerful, it will overload the filter system. The filtering equipment will fail, and the quality of pool cleaning will be significantly affected.
Always try to select the machine that has the right specs that match the capacity of your pool. You should know that the filtering quality primarily depends on the performance of the main pool pump. A self-suction pump functions by moving water in a circle. It first directs the dirty water to the skimmer before channeling it back to the filter. The filter incorporated in this pump only helps to prevent huge objects such as bottles and toys from accessing the pool. Therefore, it is fundamental pre-treatment equipment.
In summary, your swimming pool pump is the heart of your facility. The pool pump must be efficient for you and your household members to enjoy using the swimming pool at any time. Only accept pool pumps that have been tested and certified by reputed experts. You can contact us to assist you in choosing the best pool pump for your facility.